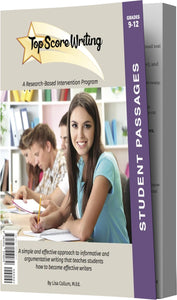 9th-12th Grade Nationwide Edition Student Workbook of Passages
Regular price $35.00 Sale
Top Score Writing® 9th-12th Grade Workbook of Passages.
The passage workbooks include over 100 passages. Every passage set has been certified and given a Lexile measure according to grade level. The lessons in the curriculum refer to many of the same passages repeatedly. Therefore, it is important that each student has a passage book to keep all their passage sets organized and easily accessible.  
*Passage workbooks are optional. Every teacher kit includes one passage book. Teachers have permission to make their own copies for classroom use only.  
To take a test drive CLICK HERE.